When Dark Tower Meets Lego!
Building The Tower:

I called the project Skull Tower because I was originally going to build the tower using LEGO kit 7093.
But as it turned out there wasn't enough room for all of the displays and the keypad, so I installed the LEGO Digital Designer software and created a tower that kept the simplicity and sturdiness of the original tower. I may still put a skull on the top front above the numeric display. I have enough outputs left that I could animate his eyes.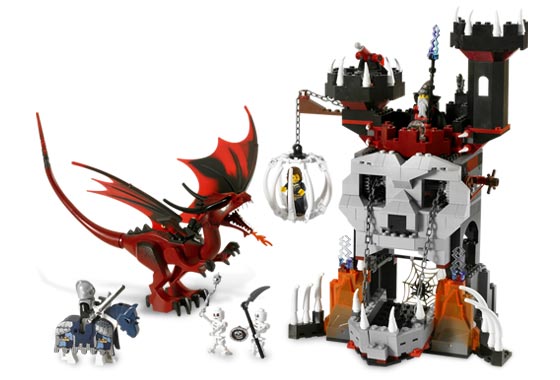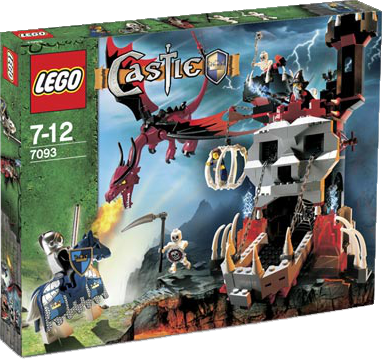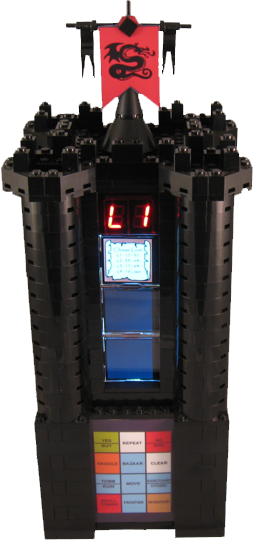 Original Tower New Tower
I finally got a fairly good video of the Tower in action. The displays are bright and over power the camera causing the video to be to dim and it washes out the color, but you get a feel for how it works. You can also hear my furnace fan running in the background ;)

What you see:
1) I select Level 4 which is the one player learning level, you start in your homeland with all of the supplies and keys with 16 Brigands in the tower.

2) I select the CS for "Classic Struggle" ( I added a FS for "Fast and Safe" mode that cuts back on the battles and events when you are just moving. It cuts a 4 player game play time down to about 1 3/4 hours verse 2 1/2 hours in "Classic Struggle" mode when you want to squeeze in a quicker game ).

3) I select the Homeland for player 1 ( not part of the original game either, but you always know what land you are in when you do an inventory, so you know if you forgot to press the "Frontier" button when you went to the next land ).

4) I press the "inventory" button ( the tower moves a little because I am trying to press a button on the right side with my left thumb while holding my iPad Mini to film the whole thing :P ).

5) Press the "Bazaar" button, then try to "Haggle".

6) Press the "Skull Tower" button and solve the riddle of the keys ( in level 4 it is always Gold, Silver, then Brass ).

The Battle ensues and the thumping noise you hear is not the heat of the battle but my ice maker choosing this time to dump a load of ice.

I am victorious with a final score of 48.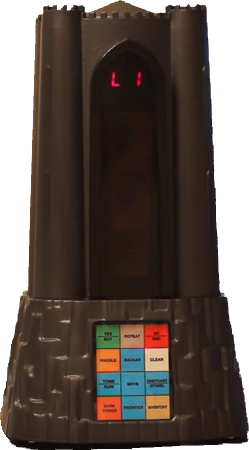 Previous Page Next Page